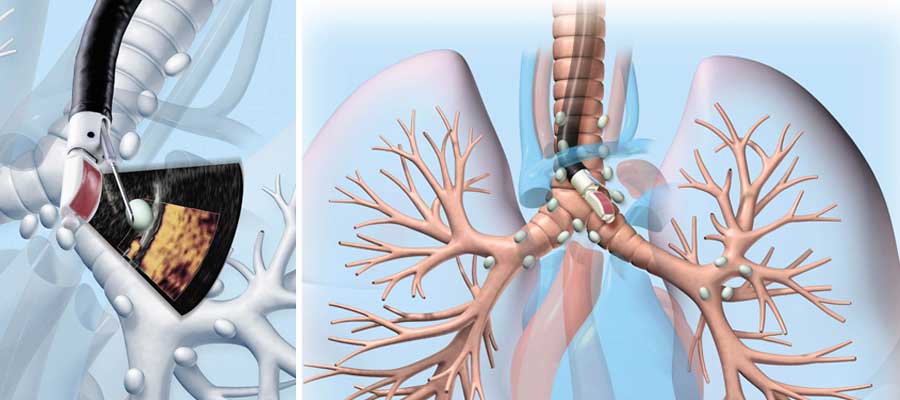 Endobronchial ultrasound (EBUS) is known as a revolutionary procedure of the last decade. This offers the interventional pulmonologist the opportunity to bilaterally examine the Respiratory System and Mediastinal Lymph Nodes. Many respiratory conditions, especially new respiratory malignancies are found via this method.
Lung cancer treatment is defined by the initial full diagnosis and the precise staging. In order to obtain a specimen of the lymph nodes a biopsy needle is directed through a bronchoscope, with an ultrasound transducer attached at the end, which is focused on the lesion under direct vision.
After definitive samples are taken this determines if the patient is suitable for surgical intervention or whether he/she will receive chemotherapy or gene therapy. The existing methods such as simple Bronchoscopy, CT scan and PET scan has led to many patients being falsely diagnosed and wrongly treated. The use of ultrasound method has the potential of not only being a supplementary diagnostic tool but a determining diagnostic factor. This procedure can be performed without hospitalisation and further complications caused by surgery.
In our lab, specially trained medical professionals under my guidance, directly give solution to the problem with the patient leaving the hospital saying "I didn't feel a thing".

Endobronchial ultrasound (EBUS) is a pioneer endoscopic technique  of diagnosis and precise staging of lung cancer.

This bronchoscopic technique allows the approach of hard to reach lesions of the respiratory system, as well as the diagnostic approach of lymphnodes, for which the patient should otherwise undergo surgery.
PERIPHERAL ULTRASOUND
The application of peripheral ultrasound (mini probe) makes possible the approach of peripheral lesions that are not visible with the simple bronchoscope. We insert the mini probe through the bronchoscope, which focuses on the problematic area and then biopsies are taken. Otherwise, these lesions are only approachable by surgery.